The secret exotic islands surrounding Crete
If you look at the map of Crete you will notice that it is surrounded by small and larger specs of land in the middle of the sea. Overall these "specs of land" number over 100, which most of them situated off the East coast. Most of them are pieces of deserted land, with no special interest, however a great number of those tiny islands constitute a wild life refure and even hold evidence of life during antiquity of great cultural interest. Most of them are accessible, whilst the the rest are not and only one of them (the largest one) is inhabited today. This is a list of the most dreamy and exotic islands surrounding Crete:
Gavdos, the island of Calypso

Gavdos island is Ancient Ogygia, the island of Calypso who detained Odysseus for several years. Most of the island is surrounded by a wild and unspoiled environment with pines tress and endless sand beaches. You can access Gavdos by local ferry from the port of Palaiochora or Sphakia on the South coast of Chania county Crete.
Chrysi, the windy island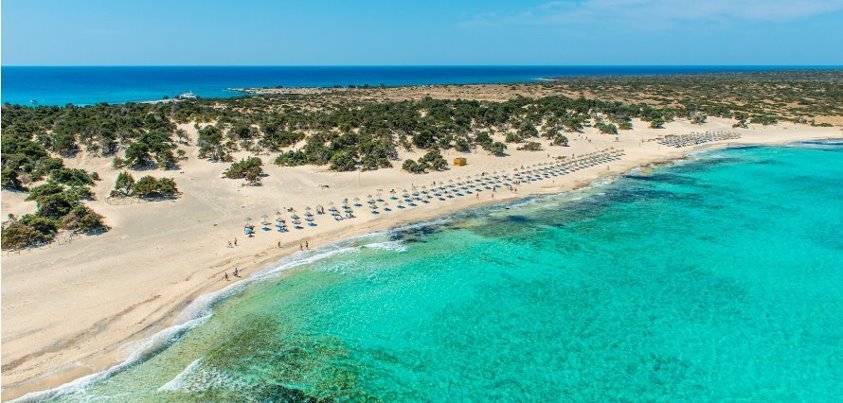 Approaching the island via ferry, you will witness the sea taking every single shade of blue, green and turquoise. This is just a warm up for what is coming when one gets there! Soon as you reach the shore you will witness one of the most exotic beaches on earth. You can reach Chrysi island daily by taking a ferry from the port of Ierapetra, at the South of the country of Herakleion.
Cretan Koufonisi, a special paradise
The hermit, exotic landscape of this island will take your breath away. It is situated opposite Makrigualos port on the south of Herakleion county and it is filled with white sand dunes and beaches with crystal clear turquoise waters. During antiquity the island was called Leuki and it was one of the most significant centers producing Porphyra pigment out of shells as well as sponge fishing. Archaeologists have revealed a very well preserved ancient theater, ancient housing, Porphyra workshops and many other significant findings.