Folegandros has many beaches that can satisfy all preferences!
All beaches have crystal clear waters and you have a choice to choose if you want to swim on beaches that are not crowded and are more secluded or if you want to visit a beach that will offer water sports.
You will mainly find sandy beaches on Folegandros that can be reached, by foot, car, bus or the tourist boat. The beaches that are more secluded can be reached by foot, perfect for hikers.
Don't forget to take plenty of water and snacks with you as most beaches don't have any facilities.
Here are some of the beaches that we suggest you may want to visit.
Chochlida Beach
Near Karavostassis port you will find Chochlida beach. This beach is preferred by families offering plenty of shade from the trees. Cholchida beach offers facilities and also has bars, taverns and hotels near the sea. Nearby with easy access by stone steps you will find Vardia beach, small gulf area with sandy beach and also Livadi beach that is perfect for water sports.
Aggali Beach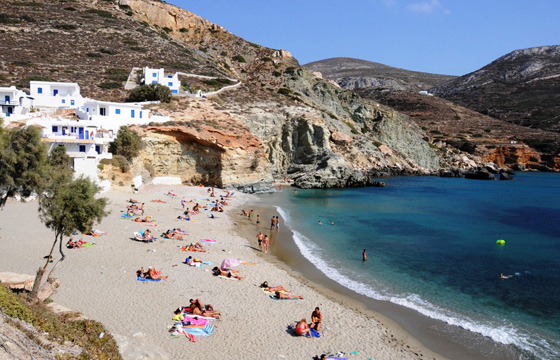 Aggali beach can be reached by bus, car or tourist boat from Karavostassis port.
Aggali in Greek means hug, the way the rocks are it seems like they are hugging the beach. A family orientated beach with rooms to let and taverns. There are tourist boats that can take you to nearby beaches of Agios Nikolaos, Livada and Ampeli, or by foot to the small beach of Fira, Galifos and Agios Nikolaos.
Katergo Beach
The beach that is most popular and a definite beach to visit is Katergo beach. Katergo beach can be reached for by footpath from Karavostassis that is quite a rough walk for those that like to hike or with a more easy access by tourist boat. Make sure you are well equipped and have plenty of water and food with you as this beach does not offer any facilities.
Ampeli Beach
A small quiet beach that offers an amazing sunset is Ampeli beach. This beach can be accessed by foot from Ano Meria path that will take around 30 minutes to climb down to the beach, or for those that prefer a more relaxing method can use a tourist boat.
Agios Georgios beach
Agios Georgios beach is located on the northern side of the island. Can be reached either by car on a dirt road or by foot along the footpath from Ano Meria. If winds are blowing from the north this beach should be avoided as the sea will be choppy and is not comfortable to relax on the beach.
Livadakia Beach
Livadakia beach is a small beach situated north to Aggali beach and within a small cove that protects from winds. Usually a quite beach except when the excursion boats stop during the island tour. This beach is well known for its sea life so snorkeling equipment and underwater camera is suggested. As Livadakia beach is secluded you may enjoy nudism.
Agios Nikolaos beach
Agios Nikolaos is located 20minutes walk from Aggali, and can also be reached by boat, no cars can reach this beach. The beach has it name from a small church that is on a hill next to the sea. Agios Nikolaos is a beautiful sandy beach and also has a café/tavern offering water, refreshments, snack, fresh fish and grilled meat. Even though camping is not allowed you may find people that will overnight on the beach.
Vicentzo beach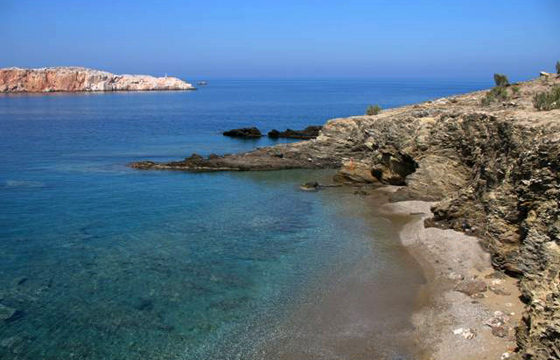 Amongst the most popular beaches on Folegandros is Vicentzo beach, located less than a kilometer from the port and has easy access by car and has a walk down hill to reach the beach. Vicentzo is perfect to relax while soaking up the sun , with it's amazing view and swimming in the crystal clear waters.
Pountaki Beach
Pountaki beach is also one of the preferred beaches on Folegandros even though it is a small beach with no facilities and a secluded beach it is perfect for relaxing and has easy access by car from Karavostassis.
Livadi Beach

The beach that is more popular with younger people is Livadi Beach, just over a kilometer drive on a good dirt road from Karavostassis. The beach is sand and pebbled mixed with trese that give shade. One of the few beaches that offer facilities, here you will be able to find sea sports, beach volley and a tavern that is located in a camping area. During the peak tourist season music events take place on the beach.
Latinaki Beach
Located just 800 meters south of Karavostassis is Latinaki Beach, the first of three consecutive beaches, each beach with it's small cove. The beach has no facilities and is secluded. The high rocks separate the beach in small beaches and offers privacy.
Fira Beach
The small beach of Fira is located 15 minutes walk from Aggali and can either be reached by foot or with the tourist boats, no cars are able to reach the beach. Fira is secluded beach, protected from the winds, with it clear blue waters and sandy beach perfect place to retreat to for peace and quiet. As this beach has few visitors is usually acceptable for nudism.
Galifos Beach
Located just a 10 minute walk from Aggali you will find the secluded beach of Galifos. The beach has no facilities, make sure you take along plenty of water and umbrella for shade. As long as there is not a southern wind the sea will be crystal blue and calm. As this is a secluded beach it is acceptable for nudism. Galifos can be reached either by boat or foot.