AMORGOS BEACH GUIDE
Amorgos is a charming island in the Cyclades, Greece, offering mostly secluded, private beaches like Mourou beach, Plakes, Kambi or Levrossos beach, which are certainly considered to be among the best beaches in Amorgos. Of course there are also popular and busy organized beaches like Katapola beach or Aegiali beach, which are also the two ports of Amorgos, but the island's highlight is Agia Anna beach where the film "Big Blue" was shot. Choosing the best beaches in Amorgos is something not easily done, as the island boasts some of the most beautiful and scenic beaches in the Cyclades.
AGIA ANNA BEACH AMORGOS
Agia Anna is the film star among Amorgos beaches. Located very near Hora, Agia Anna is a pebbled beach with deep blue waters that hosted the filming of the famous "Big Blue" movie. Although it s a very popular spot, Agia Anna is not organized at all and is the ideal place for diving and snorkeling while it is not recommended for young children due to its rocky surface. On foot, in a few minutes' walk, you will also reach the nearby isolated coasts of Kambi (a nudist spot) and Sirma.
AGIOS PANTELEIMONAS BEACH AMORGOS
Agios Panteleimon is located very near Amorgos' one port, Katapola, and is accessed from there by boat or by the small path from Ksilokeratidi area. It is a sandy beach, mostly tranquil, which has been named after the small church found right above it. So, are you dreaming of total relaxation and endless sun? Then, this is the beach for you!

KATAPOLA BEACH AMORGOS
The homonymous beach of Amorgos' one of two ports. The coast stretches at a length of three settlements covered with soft sand and tamarisk trees offering natural shade in a sun-dressed summer day. The beach is painted with the colours of sailing boats that moor here while you will be also able to visit the nearby archeological remains of Minoa's settlement. The area is also full of taverns, restaurants and cafes.

AGIOS PAVLOS BEACH AMORGOS
Agios Pavlos is located at bout 8km south from Aigiali and it boasts a coast that combines sand and pebbles. Its highlight is the proximity and views to the charming Nikouria islet while small boats can take you across to it so that you enjoy its three amazing beaches. Agios Pavlos is a fishing spot and you will also find there a tavern offering mouthwatering local delicacies.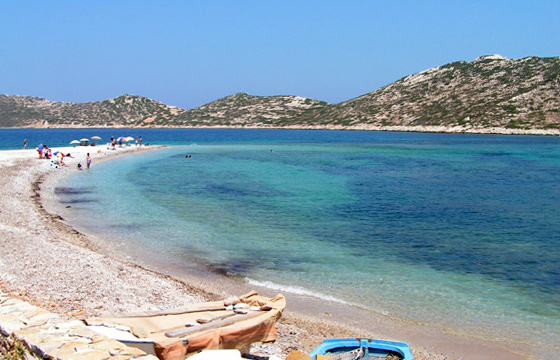 AEGIALI BEACH AMORGOS
Aegiali is one of the most picturesque beaches on Amorgos and the road that leads to it offers breathtaking views tinted with intense colour contrasts. The coast is covered by thin, almost white, sand that blends magically with the deep blue waters and the green colour of the surrounding vegetation. Around the beach you will find many accommodation options, restaurants and cafes while it is partly organized with sunbeds and umbrellas. Aegiali is also ideal for families with young children.

KALOTARITISSA BEACH AMORGOS
Kalotaritissa is a sandy bay, protected by winds, found on the southernmost spot of Amorgos. A sandy beach with transparent, clean waters, Kalotaritissa is a favourite spot for fishermen too so the scenery is completed by the typical, colourful Greek caiques (small fishing boats). The beach is accessible by bus and then on foot or by car after traversing the small dirt road. On the beach you will find a small canteen and a few sunbeds and umbrellas.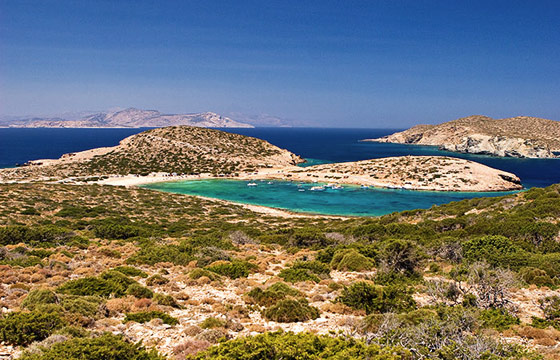 GRAMVOUSA ISLET BEACHES AMORGOS
Right opposite Kalotaritissa beach on the south of Amorgos lays Gramvoussa, a small islet boasting an amazing beach with white sand and greenish waters. Gramvoussa is the shelter of immigrating bird species and it is a tranquil place of virgin beauty ideal for fishing and snorkeling. The islet is mainly accessible by taxi-boats from Kalotaritissa bay.