These are the Athens top Beach Bars
When the temperature rises in Athens, the seaside is just 30 minutes away from the city center where the beach bars await to salute you for a ton of fun and relaxation by the sea! We present you the top 5 beach bars of Athens, which we suggest for you this summer!
Bolivar Beach Bar
Very close to the city center, Bolivar Beach Bar at the Akti tou Iliou in Alimos has been in business for 12 years now and remains one of the top choices for entertainment by the beach. The scenery is exotic with a lot of sand, great cockteils, mediterranean dining and the company of famous Greek and International DJ's creating a great atmosphere!
Holy Spirit, Yabanaki-Varkiza Resort
Holy Spirit is a well known cocktail bar at the seaside town of Glyfada and now has moved for the summer at the Yabanaki Varkiza Resort. Relax on the large pillows and the sunbeds while enjoying a classic Margarita among the long list of the exquisite cocktails of the head bartender Xavie Misailides.
Sundara, South Silky Athens
This new arrival, South Silky, is a multi-art space of summer chilling and entertainment. With many choices from coffee, food and refreshing cocktails, special relaxing sunbeds for sunbathing, watersports, beach volley courts and special rackets spaces as well as many summer parties with well known DJs.
Mojito Bay
The cuban style beach club at the Agia Marina beach is the hottest spot for the Athenians that stayed in the city this summer. The day starts early in the morning, in a chilled atmosphere and rythm goes up gradually as the parties last till the brake of dawn!
Oasis 38 Beach Bar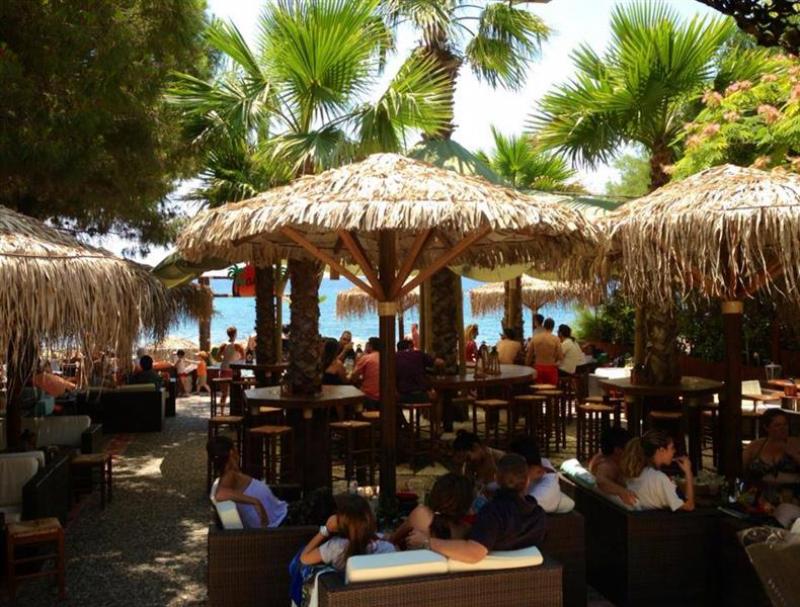 On the 38th km of Athinon-Souniou avenue you will find an oasis of bamboo and wooden details that gives you the feeling that you are at sme exotic beach. After swimming you can enjoy an iced coffee or snacks and you can continue till late at night with refreshing cocktails and loud beats!